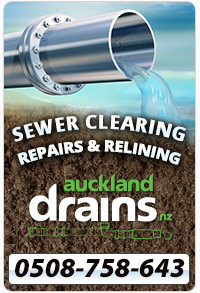 For fast, professional removal of blockages in your Auckland sewer, depend on the experts and call on AucklandDrains.nz.
1. BLOCKED SEWER LINES CLEARED FAST IN AUCKLAND!
If a blockage has occurred in your sewer, call on AucklandDrains.nz, and we'll have one of our experienced team at your door fast. They' arrive in a fully stocked vehicle with the specialist equipment to get even the most stubborn of blockages cleared for your FAST!
2. LEAKING AND COLLAPSED SEWER REPAIRS
With the use of precision diagnostic video inspection equipment we quickly pinpoint the location and condition of damage within your sewer pipe. With a fast diagnosis, the most suitable repair method is chosen and we can get repairs made.
The hydro jet system makes an easy meal of even the most stubborn of blockages. Able to extend to accommodate any length of residential pipe and flexible enough to travel round bends, the hydro-jet system will clear your blockage and clean your pipe in the process.
4. NEW SEWER LINE CONNECTIONS
We'll connect your new or replacement sewer line up to the city mains ensuring all codes and complied with.
If tree roots have invaded your drain or sewer line, we have the diagnostic and repair equipment to remove them fast. We can also assist with safe solutions to inhibit regrowth.
6. PREVENTING FUTURE BLOCKAGES
Keep your drain and sewer line clear with preventative cleaning that removes any build-up, and reduces your exposure to damage from blockages that could have been avoided.
7. EXCELLENT WARRANTIES
Enjoy peace of mind knowing all our workmanship is backed by a written warranty.
For professional sewer clearing and cleaning services at your Auckland home, choose the on-time sewer experts and call and speak with the team at AucklandDrains.nz today.